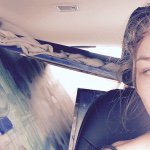 Looong winded update here. As you already may be aware, I'm back from my trip to Switzerland. That's right, I finished school and now I'm a Practitioner in Color and Sound healing! I see clients on Monday's at FLOAT Mid Town. Learn more about my practice and scheduling sessions here.
Ashli the Artist
I will always be an artist, one that is inspired (spoken to) by the colors (energies) and vibrations around me. This experience amplified excitement for the upcoming works. It's also developed a significant amount of growth in my life journey. One of my largest goals in traveling around the world to Tama – Do was to dive deeper into a "heady" space of consciousness and to devolp a complete understanding of color and vibrations. On this journey, I naturally discovered my personal experiences with colors/vibrations. I was elated to see how this new expansiveness is allowing even further growth as an artist.
Ashli the Artist/Healer; Combining My Passions
As I came back home and began to finish pieces that I started before my journey. I'm placing them in new homes and prepare for upcoming showings, my heart seems to be on fire for growth.  If you follow me on Instagram, you may have noticed that I started posting about satellites. For two entire years before starting Tama-Do, I began using and transforming satellites as my canvas too.
I was generously offered reclaimed residential TV service satellites as a medium for my work. A divine light bulb went off and  I had a flood of  overwhelming feelings.  I began to reflect on how satellites could have an larger meaning, metaphor and correlation to my journey with sound and color.
Ashli the Artist/Healer/Thinker
Looking back to when I was a child and seeing satellites. How will my family afford one some day? How much money does a person need? I wonder what people watch? Why are there so many on one building? The joy that I would get , the jealousy of wanting to be included. These thoughts, fantasies and questioning never ended. I'm sure growing up in the time technology was beginning to become rapidly growing allowed all this new space for analyzing.             As a growing young adult, I still questioned them by the ads that came in the mail, staring off at them while on the bus, in a car, walking, etc.   Why are they just left behind? Why are so many willing to invest their money into having service?  Why do some people believe everything they see as truth, instead of a one way of perceiving reality?  Why does one make sure they're home in time for their favorite show?  Ever growing questioning with endless answers leading me more to the understanding of the "power of media" the "power of comfort" the "power of freedom" "the power of marketing" the never ending list and what this can mean for many people on many different levels.     I remember so clearly how  proud I was when I bought my very first TV and could pay for the cable in my first place. I constantly reflected on my Mom and the hard work she invested to get to me that point.  I discovered something I wanted and thought that I needed was often found left on.  Just as once before, a kid stuck outside, I would be on my porch watching the clouds go by or two birds gathering grass to build a nest. I eventually get rid of the cable. it turned out I never actually needed it.      Now, as an adult I choose not to have any cable, satellites or regular television in my home but never lost my curiosity about how it all comes together and it's all fallen apart.
I'm lunging further into incorporating more works of art on satellites. I will continue tuning myself in and engaging with my loyal followers and newcomers with color and sound vibrations. I am so excited to continue to express how these actions occur every moment around us and how impactful they truly are to our day to day lives.
Leaping forward
Check out the tab on my website that will take you directly to Satellite Art. Stay tuned for updates!
I plan to paint on these satellites just as I do on my circular canvas, inspired by colors, vibrations, past, present, future, love, relationships, media, politics, social movements, day to day life in my community surrounding areas, fantasies, and so forth.
I'll also be creating installations! I want to add a new chapter to my work and its meaning and move it into 3 dimensions. I want the work to be  more immersive, visceral, relatable, thought and conversation provoking is my goal.
I look forward to sharing my growth and I invite you to engage with me as often as would like using either Ashli.org or any of my social media pages.  If you're new to Ashli.org WELCOME! I hope I've inspired you to look around your life and discover your own forms of evolution or art. As always, thank you for support.